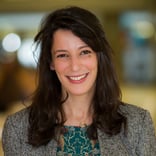 KHARCHAFI Aïda
Event Team Lead
Career opportunity
Manager in an Event Tech Enterprise
About Aida
Current position : Team Lead - Event Tech
Current Company : SpotMe in Switzerland
Hospitality School: Ecole Hôtelière de Lausanne (EHL)
Graduation year : 2011
My missions at SpotMe
Managing and coaching a team of 10+ project managers and coordinators, assigning resources while optimizing the event planning and team utilization. Assessing excellence and quality as a driver of the team's performance. Handling talent recruitment and new joiners on-boarding.
What makes you get out of bed every morning to get to work?
Knowing that I am contributing and bringing value to meaningful initiatives. Being able to be there for my team, seeing their performance improve and being able to help them grow and achieve their career objectives.
About the company
SpotMeS is a mobile platform that allows anyone in Marketing, Sales or HR to easily build the app they need to engage their audience.
It is located in Lausanne, Vaud - SWITZERLAND